Tipping Lines
Beatriz Mínguez
From September 8 to 30
CC Guinardó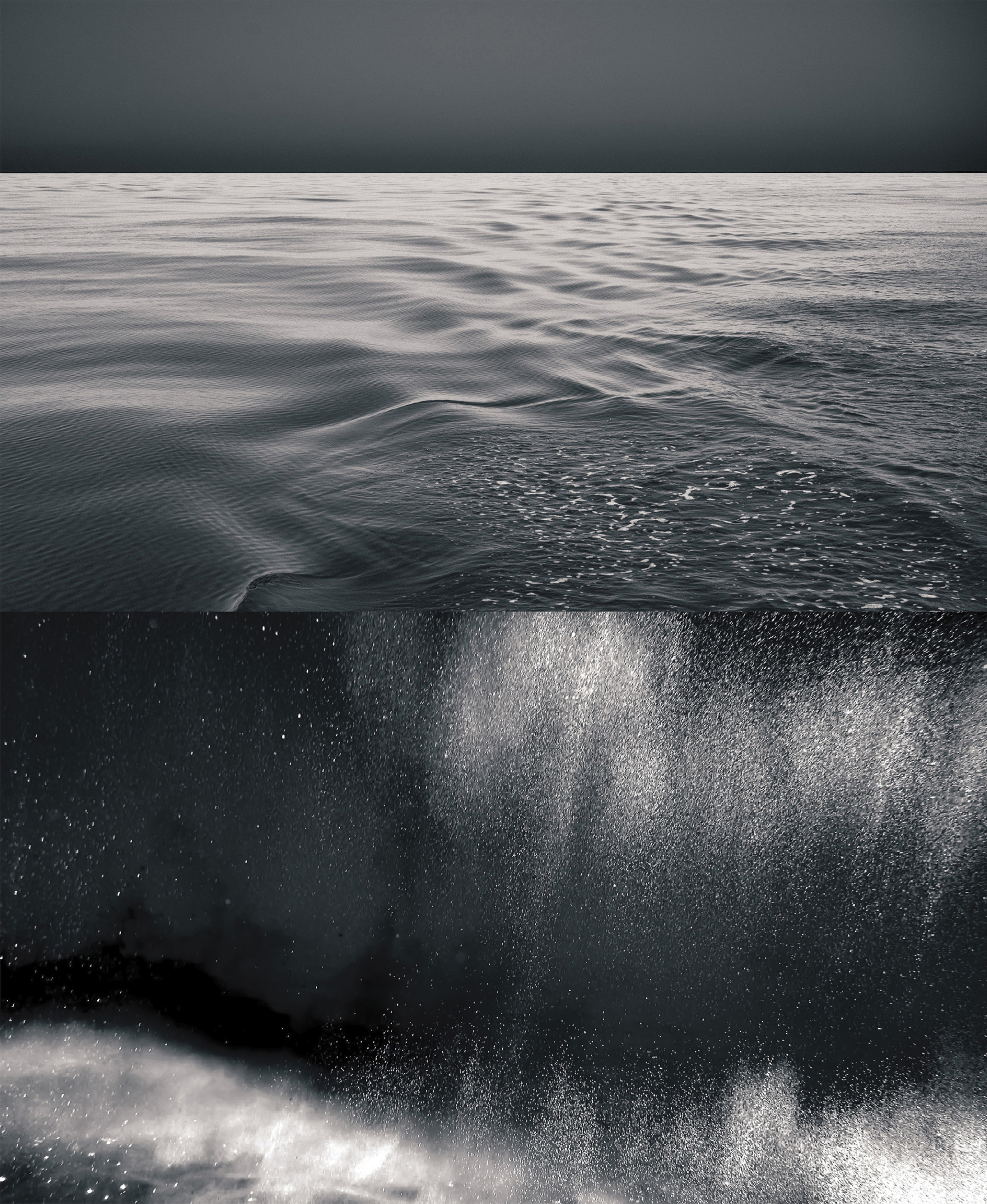 Beatriz Mínguez works with a multiple view of the sea focusing on the direct relationship between the dimension on the water and the dimension underwater around two horizons that connect the sky, the surface of the sea and the world of the depths . Tipping Lines marks the horizon as the line connecting air and water.
The project arises from the observation of the dichotomy between the apparent stillness from above in contrast to the constant movement always present from below. This stillness and non-stillness are shown only by the light reflected on the matter, showing the plastic and abstract qualities of water both above and below.
The earth appears weightless floating on the distant horizon. It all revolves around the perception of what is understood as the Turning Line. The horizon is in this case a physical line converted into a meeting surface between water and air, and therefore the world of the surface and the sky with the world of water or the underwater dimension.
The lines, contours and textures form a new representation of a somewhat unreal seascape that surprises the viewer with a lack of determination and seeks to disorient him and suggest the possibility of an experience rather than a look at an object. Everything runs in the dichotomy between, up and down, air and water, manipulating the usual perception of the elements, which appear dematerialized. Images move between figurative language and abstraction separated by a thin line on the horizon.
Tipping Lines – Beatriz Mínguez
Exhibition from September 8 to 30
Centre Cívic Guinardó, Ronda del Guinardó 113, Barcelona
Opening hours Monday to Friday from 9 am to 2 pm and from 4 pm to 10 pm.
ACTIVITIES
· Wednesday 14 September at 7 pm Visit commented by the author Beatriz Mínguez.
· Monday 19 and Tuesday 20 September from 6 to 8 pm workshop XXXX
About Beatriz Mínguez
Beatriz Mínguez is a visual artist and architect. She has a degree in Art History from the University of Barcelona and is an architect from the Architectural Association of London. In her work she combines different disciplines: video, photography, video installations and sculpture.
Her works with the notion of landscape and the relationship between man and nature, perception and the passage of time.
Her videos and installations regularly take part in international film and video art festivals in which she has received several awards (FIVA, File.org, Bideodromo, Bugarte Film and Visual Arts Festival, Loop, Figueira Art Film Festival, Flux Festival, In Pieces of the Casa Encendida and Choreocope among others) and regularly exhibits at the H2O Gallery of Contemporary Art in Barcelona. In addition, her work is part of the Márgenes.org and PLAT.tv archives, an independent film archive of independent Spanish cinema.
Beatriz Mínguez presented her work at the eighth edition of Art Photo Bcn in 2021.